William F. Garrison is a retired Major General of the United States Army who was the commander of Operation Gothic Serpent, the military operation launched in 1993 to capture Somali warlord Mohamed Farrah Aidid. Garrison was portrayed by Sam Shepard in the film Black Hawk Down, which was based on the events of the Battle of Mogadishu.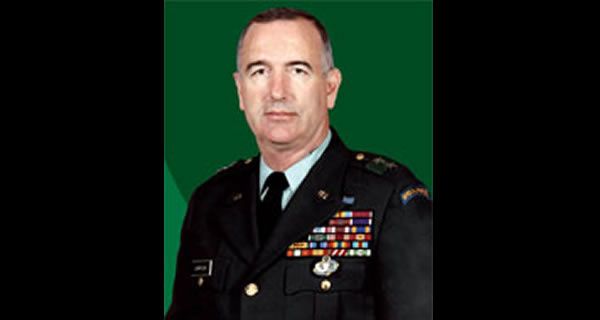 William F. Garrison enlisted in the Army in July 1966 and was commissioned as a 2nd Lieutenant upon graduation from Officer Candidate School the following year. He served two tours in Vietnam, earning a Bronze Star for valor and a Purple Heart for wounds received in combat. While in Vietnam, he participated in the Phoenix Program. Phoenix was an initiative of the C.I.A. and the Army of the Republic of Vietnam to capture, convert or assassinate leaders within the Viet Cong guerrilla command structure.
After the war Garrison spent most of his career in special operations units, including the U.S. Army Intelligence Support Activity as the commander of its operations squadron and the 1st Special Forces Operational Detachment-Delta (also known as Delta Force) from 1985 to 1989. His last command was the John F. Kennedy Special Warfare Center. He is known for being the commander in charge of Task Force Ranger during Operation Gothic Serpent in Somalia. Garrison retired from the Army at the rank of Major General on 3 August 1996, the day after Mohammed Farrah Aidid died. Throughout his career, as he was promoted to Colonel, Brigadier General and Major General, Garrison was the youngest officer to hold those ranks. Garrison is also said to have been in charge of the assistance force guiding the takedown of Pablo Escobar.
Garrison took full responsibility for the tactical setbacks experienced in Operation Gothic Serpent. This effectively ended his career. Mark Bowden, the author of Black Hawk Down: A Story of Modern War, described Garrison as a military ascetic. According to Bowden's description Garrison tirelessly worked to serve his country and would do anything for his soldiers. Some of Garrison's subordinates have also spoken publicly about their former commander.
Staff Sergeant Dan Schilling, an Air Force Combat Controller who took part in Operation Gothic Serpent shared his feelings about Garrison in the book The Battle of Mogadishu: Firsthand Accounts From The Men of Task Force Ranger. On page 187 of the text Schilling stated "I should pause here for a moment to say a few words about General Garrison. Many know his record and command history. I'm not the person to expound on his exploits; in fact I don't know the man very well.
But I will say he is the finest general officer I have ever worked for and probably ever will. He understood his men and how we thought, what we wanted and needed, and understood the situation anywhere he was, immediately and completely. He is the finest leader an operator could ask for. It wasn't a shame that his career was derailed after our deployment; it was a criminal act committed by political cowards." Garrison earned his Bachelor of Business Administration from Pan American University and graduated with a Master of Business Administration from Sam Houston State University.