Oberlander named a leading war crimes suspect

published 04/05/2012

Waterloo — An international Nazi-hunting organization has put Helmut Oberlander of Waterloo on its list of the 10 most wanted Nazi war crimes suspects.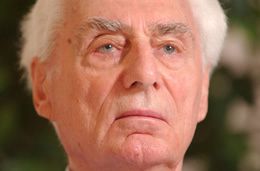 "I'm well aware that Oberlander was not a commander, he was a young person drafted at a very young age," historian Efraim Zuroff told The Record from Israel.

Zuroff is the chief Nazi hunter for the Simon Wiesenthal Center, a Jewish human rights organization headquartered in Los Angeles. The organization named Oberlander in April.

Oberlander, 88, was a decorated, auxiliary member of a mobile death squad that's estimated to have murdered more than 23,000 people, mostly Jews, in the Soviet Union during the Second World War. He was a low-ranking interpreter.

He immigrated to Canada in 1954 and became a successful developer. No evidence has been presented in court that he personally participated in war crimes.

"It's an attempt to besmirch my name," Oberlander said from his home. "I killed no one. I hurt no one.

"I was a 17-year-old youth at the time. I was drafted as an interpreter. How could I be a top Nazi?"

Canada has twice stripped Oberlander of his citizenship for lying about his wartime service. The Federal Court of Appeal overturned both actions, most recently in 2009 in sending his case back for further review.

The annual list of top Nazi war crimes suspects is partly a public relations tool to promote awareness about the prosecution of Holocaust perpetrators.

The Wiesenthal Center named Oberlander after three others on the list died, and because they now believe he could be convicted of war crimes in Germany if deported there.

Zuroff points to the 2011 conviction of Sobibor death camp guard Ivan Demjanjuk after the United States deported him to Germany. For the first time, Germany convicted a Nazi war criminal without evidence of a specific crime against a specific victim, he said.

After speaking with German prosecutors, Zuroff believes this paves the way for Germany to prosecute any person who served in a death camp or in a mobile death squad, and for a court to convict them of accessory to murder at the very least.

"That change is a much better reflection of historical reality of what took place in these units … and in death camps," Zuroff said. "The Demjanjuk conviction changed (Oberlander's) status significantly."

Ernst Friedel wonders if Oberlander has been named to the list because the Wiesenthal Center has too few Nazis left to hunt. He disagrees with identifying Oberlander as a top suspect and contacted the organization about it.

"Either they haven't got all the information, which I suspect, or they are desperate," Friedel said. He's a past president of the Ontario German-Canadian Congress but stressed his comments are personal.

The case against Oberlander remains in federal hands. The government would not say if it will try again to strip Oberlander of citizenship and deport him. It has been attempting to do so since 1995.

"We will revoke citizenship from individuals who obtained it fraudulently to ensure that Canada is not a safe haven," said Alexis Pavlich, a spokesperson for Immigration Minister Jason Kenney.

Oberlander said it's a waste of public money for the government to pursue him and he'll fight on in court.

Jewish advocates continue to press for his deportation. "We think now as we always have that Oberlander should never have been allowed in the country," said Len Rudner of the Centre for Israel and Jewish Affairs in Toronto. "It's time for him to go."

The German-Canadian Congress opposes stripping Oberlander of citizenship over war crimes allegations not proved. "I don't think our position has changed one iota," said Wayne Wettlaufer, Ontario president. "The court case did not prove beyond a doubt that he was a war criminal."

In 2000 the Federal Court found Oberlander was a member of Einsatzkommando 10a, a Nazi death squad that operated in southern Ukraine and Crimea between 1941 and 1943. The court found he was not a member of the SS, whose uniform he wore.

The court did not hear a statement by a wartime comrade that implicated Oberlander in the massacre of Jews in Rostov, Ukraine, in 1942.

In 1966, an interpreter in the squad told West German investigators that he saw Oberlander help save the life of a terrified woman who had been rounded up with Jews to be murdered. She claimed not to be Jewish. The interpreter claimed the incident happened in a room where hundreds of Jews, soon to be murdered, had been stripped of their valuables and told to undress.

The interpreter died before Canada put Oberlander on trial. Oberlander denied the incident to West German investigators in 1970. He denied it in an interview in 2000 and again on Friday. "Absolutely wrong," he said. "Never happened."

The latest list of most-wanted Nazi war crimes suspects includes three people with Canadian connections.

Top spot is held by Ladislaus Csizsik-Csatary, stripped of his citizenship in 1997 and no longer in Canada. The number four spot is held by Vladimir Katriuk, whose Canadian citizenship was stripped in 1999 but later restored. The Wiesenthal Center has forwarded new evidence about Katriuk to Canada's war crimes unit. It was uncovered by a German historian.

The Jewish organization ranks nations on how they prosecute Nazi war criminals. "Canada for quite a few years has received an F, a failing grade," Zuroff said.

He said Canada has failed to deport multiple Second World War suspects after stripping them of citizenship. The United States, by contrast, gets an A for its deportation successes.

Murder squad

West Germany convicted seven men of war crimes for serving in the same Einsatzkommando 10a squad, at the Eastern Front, as Helmut Oberlander:


1972: Three convicted in the 1941 massacre of 200 Jews in Taganrog and the 1942 massacre of 214 children in Jeissk. All received four-year sentences.
1973: Three convicted in the 1941 shootings of hundreds of Jews and isolated civilians in a dozen locations in southern Ukraine. Sentences ranged from two to four years.
1980: One convicted in the 1942-1943 gassing of at least 30 prisoners in Krasnodar and the shooting of more than 30 villagers in Maryanskaya. Sentenced to 10 years.