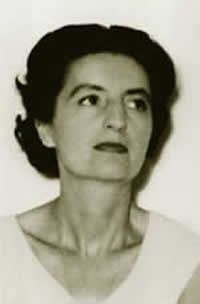 Elisabeth Sigmund (born on 25 October 1914 in Vienna) is the mother of Dr.Hauschka Skin Care. She was drawn to cosmetics very early on in life. After graduating from school in 1933 and studying medicine for two semesters in Vienna, she joined the cosmetics firm To Kalón in Vienna where she trained to become an esthetician. Between 1933 and 1939 she spent three months in Paris attending classes at a cosmetics laboratory and worked at the cosmetics salon Pessl in Vienna, partly as intern partly as paid employee. However, she disagreed with the conventional treatment methods used there, such as facial massage, for example, and therefore decided to leave. Her journey to her own cosmetics line and treatment had begun.

Elisabeth Sigmund had an unquenchable thirst for knowledge and throughout her life conducted extensive independent studies of the literature on anthroposophical medicine and medicinal plants, particularly plants with cosmetic action. In the National Library and University Library in Vienna she had access to ancient medical works, mostly from monastic libraries. In the richly illustrated, hand-written folios she found a wealth of information on the subject of skin diseases, with numerous treatment formulas which can often be classed as purely cosmetic, as well as information about the cosmetic effects of medicinal herbs. She often travelled to Austrian monasteries where she studied ancient medical works. The knowledge she derived from these studies was the foundation for the development of her own cosmetics.

During the Second World War Elisabeth Sigmund was deployed as a nurse in Berlin from 1940 to 1944. In 1945 she moved to Rudolfstadt, Thuringia, where she lived in the Schiller House on the Schlossberg until 1947. In 1948, after stopovers in Berlin and Salzburg, she and her husband emigrated to Stockholm, Sweden. Between 1952 and 1955 Elisabeth Sigmund devoted herself almost entirely to cosmetics. After receiving permission from the Swedish King to open a cosmetics institute she founded her own beauty salon "Salon for the care of beauty", in Swedish "Salong för Skönhetstsvård". Her clients included not only women but also a pastor and a doctor. In her beauty salon she began producing skin-normalising cosmetics on a larger scale for the first time and worked constantly on their improvement. After getting to know Dr. Vodder and his lymph drainage method in Copenhagen, she devised the technique of lymphatic stimulation. And she developed a set of facial exercises based on the method of the physician Dr. Dr. Drobil from Vienna.

In 1955 Elisabeth Sigmund visited WALA in Eckwälden for the first time, her interest having been stimulated by her husband's very positive experience with WALA medicines in the treatment of a knee injury. A Swedish student who had had a holiday job at WALA also spoke so enthusiastically about WALA that Ms Sigmund had substances sent from there which she added to her cosmetics with great success. From 1961 to 1962 she went on an educational journey to India where she learnt about neem, amongst other things. In 1963 Elisabeth Sigmund received a letter from Dr. Rudolf Hauschka in which he asked her about ideas for a "very special" skin care approach in line with the WALA philosophy. Her reply was followed by a spontaneous invitation to Eckwälden. Three weeks of intensive discussions led to a joint decision to develop a special range of cosmetics based on totally new concepts.

From 1963 to 1967 Elisabeth Sigmund and Rudolf Hauschka exchanged their respective experience in practical cosmetics and cosmetology and in pharmaceutical production. Discussions with medical and pharmaceutical managers at WALA culminated in development of the formulations for the new cosmetics range. The central focus of this development work was always Elisabeth Sigmund's guiding principle: activate the skin's own healthy functions. In 1967, after testing by estheticians and doctors, the new cosmetics line went on the market. In 1969 Elisabeth Sigmund moved from Sweden to Eckwälden. Since then she has enjoyed passing on her collected knowledge to others. She advises WALA on all issues related to Dr.Hauschka cosmetics and the Dr.Hauschka treatment.