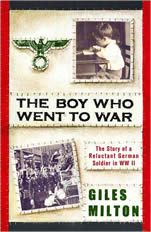 A powerful and true story of warfare and human survival that exposes a side of World War II that is unknown by many— this is the story of Wolfram Aïchele, a boy whose childhood was stolen by a war in which he had no choice but to fight.
Giles Milton has been a writer and historian for many years, writing about people and places that history has forgotten. But it took his young daughter's depiction of a swastika on an imaginary family shield - the swastika representing Germany - for Giles to uncover the incredible, dark story of his own family and his father-in-law's life under Hitler's regime.
As German citizens during World War II, Wolfram and his Bohemian, artist parents survived one of the most brutal eras of history. Wolfram, who was only nine years old when Hitler came to power, lived through the rise and fall of the Third Reich, from the earliest street marches to the final defeat of the Nazi regime.
Conscripted into Hitler's army, he witnessed the brutality of war - first on the Russian front and then on the Normandy beaches. Seen through German eyes and written with remarkable sensitivity, The Boy Who Went to War is a powerful story of warfare and human survival and a reminder to us all that civilians on both sides suffered the consequences of Hitler's war.

Fiche Technique
ISBN-13: 9781429990585

Publisher: St. Martin's Press

Author : Giles Milton

Publication date: 10/11/2011

Editorial Reviews

British journalist Milton's biography about his father-in-law Wolfram Aïchele serves dual purposes: to give his daughters a better understanding of their German grandfather; and to share Aïchele's unique experiences with Hitler's army during World War II. In countless interviews, Aïchele, born in 1924, recalls his childhood, when his "most impressionable years spent in the shadow of the Third Reich, with its marching, drilling, and obligatory attendance at gatherings of the Hitler Youth." When Aïchele turned 18, he was drafted. Milton (The Riddle and the Knight) cites the tremendous impact the Nazis had on ordinary Germans: "Wolfram's parents became aware that Hitler had introduced an element of fear into every aspect of daily life within weeks of his becoming chancellor." He also notes his father-in-law's unusual situation. Not until the end of combat, for example, did Aïchele learn of the mass murder of Jews, partisans, and Soviet prisoners of war. With this book, Milton provides an unusual perspective on an undeniably tragic period in history. (Oct.)

Read an Excerpt

The boy who went to war (Chapter One)The Gathering Storm

'You mustn't join the Nazi Party.'

It is a bright spring day in 1931: Wolfram's parents, Erwin and Marie Charlotte, have just moved into their extraordinary new home. While the grown-ups busy themselves with unpacking books and paintings, the children are left to amuse themselves.

The corridors and interconnecting salons of the Eutingen villa are alive with giggling and merriment as seven-year-old Wolfram cavorts around with Gretel, his pet wild boar. Together with his brother and sister, he has made an obstacle course out of upturned boxes and half-filled crates. And they have perfected the art of persuading Gretel to pursue bowls of milk balanced precariously in the cupped palms of their hands. As the liquid splashes to the floor and Gretel emits a contented grunt, the eighty-year-old parrot glares at them with disdain, expressing his irritation by plucking out his feathers and dropping them on to the polished parquet flooring.

'Raus! Out you go!' A sharp word from the maid sends children and boar scuttling outside, where they continue their pursuit in the long grass of the lower garden. In the family menagerie, the tame wolf, deer and owls look on with bemused indifference as Wolfram, his siblings and a highly excited Gretel end up in a tangled heap of arms, legs and boar snout.

For many months, the construction of the Aïchele family's villa had been a source of curiosity to the townsfolk of nearby Pforzheim, in the Black Forest region of south-west Germany. People watched, wide-eyed, as a veritable army of masons and roofers set off for the building site each morning. Everyone in the neighbourhood was talking about the house and asking themselves who had the money to build such a place.

And with good reason. Germany was in the grip of a financial depression so catastrophic that many had seen their life's savings lost to hyperinflation. Pforzheim's prattling housewives were no less shocked by the outlandish style of the villa. Its unusual architecture owed nothing to the familiar homesteads of rural Swabia - an area of southern Germany with a particularly rich history and traditions - and the construction site soon became the goal of many a Sunday-afternoon promenade. Pforzheimers would put on their capes and boots to traipse the three miles along the muddy byways that led uphill to the little village of Eutingen in order to catch a glimpse of the stucco façade, the plate-glass windows and the grand porch built in the squat style of the Italian romanesque.

Aloof on a hilltop, as if at a physical remove from the rest of the world, Wolfram's childhood home would become a place for artistic expression and classical music, its hall and salons brilliant with freshly cut blooms from the flower garden.

It was assumed by everyone that the mysterious new owners must belong to the town's snooty bourgeoisie, which could hardly have been further from the truth. The Aïcheles were neither snooty nor bourgeois - in fact, they were so idiosyncratic and unconventional that it was well nigh impossible to pin any one label on them. Nor were they rich. Their new home was a luxury they could ill afford, requiring Erwin to work long hours in order to pay the builders.

Wolfram's mother could not have been more different from the archetypal German hausfrau with her smart blouse and sensible footwear. Marie Charlotte had holes in her stockings and cardigans. Although extremely cultivated, of that there was no question, it did not stop her from walking around the house in her gardening boots.

The rigid formality adhered to by so many middle-class German families was wholly absent in the Aïchele household. Wolfram's parents had taken the decision to to bring up their children in an environment that was devoid of all the norms and conventions of 1930s bourgeois Germany. There were no strictures from starched aunts in outmoded crinolines, and no sense that children should be seen and not heard.

Wolfram's mother liked to break with conventions. Luncheon in the Aïchele household was always served at 1 p.m. and not at noon, in marked contrast to their neighbours. It was a subtle way of letting it be known that they were cultured and open to outside influences.

Wolfram's father Erwin, a distinguished animal artist, was so preoccupied with paying off the debts incurred by the new house that he kept only a cursory eye on the newspapers in these difficult economic times. Yet it did not pass unnoticed that, in the wider world beyond Eutingen, good news seemed to be constantly outweighed by bad. Erwin was delighted when the octogenarian war hero, General Paul von Hindenburg, beat the young Adolf Hitler to the presidency in the elections of spring 1932. Nevertheless, in the nationwide ballot that followed in July, he was disquieted to learn that the Nazis had scored an unprecedented 37 per cent of the vote. People were already beginning to say that Hitler was the only man who could save Germany from disaster.

For the children, the political chicanery in Berlin belonged to another world. Here in Eutingen, the youngsters were healthy and the family had a steady income. Summer was a time for bicycle rides, country walks, and picking plums and cherries. The fears and troubles that lay at the back of everyone's minds did not yet impinge on the private domain of the Aïcheles.

Wolfram was an inquisitive child, even at an early age. On Sunday afternoons, when his father was busy painting in his garden atelier, he would creep to the landing at the very top of the house. This was his own place of enchantment, a little corner where his imagination could run riot. His father had an old wooden secretaire - his personal cabinet of curiosities - that had dozens of keys, handles and secret drawers. Each one contained a relic, a feather or a piece of fur or an unhatched bird's egg. Erwin kept such things as reminders of all the animals he had nurtured in the family menagerie.

Here, too, were his freemasonry magazines. When Wolfram had tired of exploring the secret drawers, he would hide himself away with these journals and read stories of adventure from the outside world. There were articles about faraway countries, of the exotic Orient and the Dark Continent, as well as stories of films and artists from around the globe. Wolfram would enter another world, unimaginably distant from rural Swabia, and he was spellbound.

Alas, his reveries would never last for long. A shout from the hall would send him scuttling downstairs: it was his father, once again calling him to help in his atelier. For the next two hours, Wolfram would sit there, holding one of the dogs that Erwin was painting. It was an irksome task. He and his brother continually complained of it to their mother, but she would brush off their moaning with a joke, saying, 'I'd sooner he painted dogs than naked women.'

Wolfram's father belonged to a generation of Germans with first-hand experience of the brutality of war. Like so many of his contemporaries, he had volunteered for service in the First World War, but he was untauglich - unsuitable - for he had a weak constitution and was turned down by the army. After much persistence he finally got accepted as a war artist, producing vivid sketches of artillery battles, bomb-damaged churches and villages that had been destroyed by war.

His work carried him to the front line and he was gravely wounded in the slaughter-fields of Picardy in northern France. Hit by shrapnel - his shoulder was shattered into fragments - he slipped into a deep coma. He awoke many days later to find himself in a military hospital in Pomerania, some 800 miles from the battlefront.

By the time he was fully recovered, Germany was a different country. The war was lost and the victorious allies were determined to impose a harsh penalty on the vanquished. As Erwin made his way back to the house of his parents, he witnessed the first signs of the street violence that was to lead Germany to revolution. Radicals clashed with Nationalists, and Communists fought with soldiers returning from the front.

Many of these returning servicemen were deeply shocked by the hostility shown them. 'I shall never forget the scene,' wrote one, 'when a comrade without an arm came into the room and threw himself on his bed crying. The red rabble, which had never heard a bullet whistle, had assaulted him and torn off his insignia and medals.'

Erwin was himself a target for abuse, albeit verbal. Knowing little of the political revolution that had taken place, he arrived in Berlin still wearing the insignia of the Kaiser. It provoked a tongue-lashing from a shopkeeper, who told him to remove the monarchical colours. Erwin was deeply disturbed. Like his yeomen antecedents, he was a German Nationalist - a staunch believer in the old order, preferring Germany under the firm rule of the Kaiser. He had no time for the 'red rabble' who were attempting to sow the seeds of revolution. And he had no time for democracy.

Erwin was fortunate to have a job in the aftermath of the First World War. He had found employment as an art teacher at a jewellery school in the provincial town of Pforzheim shortly before August 1914. It was to Pforzheim that he now returned, along with the young woman who was shortly to transform his life. Marie Charlotte was bright, highly educated and physically striking.

Although not conventionally beautiful, she could turn men's heads, perhaps because she looked so unusual, with wide almond eyes and such uncommonly high cheekbones that throughout her life people would assume that she had Slav blood.

In fact, she was a thoroughbred German like Erwin, but she hailed from very different stock. She was the daughter of a distinguished military family who had first won their spurs fighting alongside Napoleon during his 1812 invasion of Russia.

The couple wedded in 1919 and Erwin resumed his job at Pforzheim's jewellery school. It was a difficult time to be starting a new life: rioting, political assassinations and running gun battles were commonplace, and there were constant clashes between rival militia and paramilitary gangs.

Amid such scenes, it was a miracle that a parliamentary democracy of sorts was born. By the summer of 1919, Germany had a constitution, a plethora of political parties and a democratically elected president. However, the constitution, drawn up in the city of Weimar, contained a defect that was to undermine the democratic process from the very outset. Article 48 allowed the president to rule by decree in times of trouble. President Friedrich Ebert was to use this prerogative on no fewer than 136 occasions - a worrying precedent for the country's fledgling democracy.

The young Aïchele couple had precious little money at this time. As Erwin was paid a pittance, he and his new wife had to live in a series of damp and inadequate rented lodgings, with no heating and many broken windows, which they had no spare money to repair. In the winter chill, Marie Charlotte was so cold that she would buy cheap, oven-hot bread buns and put them into her coat pockets to warm her hands as she walked home from the shops.

In 1921, Marie Charlotte gave birth to her first son, a plump and healthy baby named Reiner. Three years later, Wolfram was born. The extra mouths further stretched their hard-pressed finances and the family subsisted on a diet of bread and potatoes. When Erwin began to make a name for himself as an animal artist, he supplemented his income by selling his paintings to the hunting fraternity. He had soon saved enough spare cash to employ Ilse, the first in a series of increasingly bohemian maids.

The young Wolfram - he was just five years old - would clamber atop the kitchen cupboard, where an air vent provided a clandestine view into the bathroom. From this vantage point, he and his brother were able to spy on Ilse as she lay naked in the bath. Her unclothed body was not the only attraction for the young voyeurs. Ilse had arrived to take up employment at the Aïchele household accompanied by her pet snake and every time she had a bath she did so with the reptile coiled around her neck.

Wolfram decided that he was going to marry her. Her hair was cut into a fashionable bob and she always wore the latest fashions. To his discerning young eyes, the exotic Ilse seemed to be a perfect choice of wife and he was most upset to discover that his affection was not reciprocated. Ilse soon left, to be replaced by a new maid named Clara.

Pforzheim was an unusual choice of home for a young artist. The free-spirited bohemianism of Berlin was wholly absent in provincial Swabia, and the capital's jazz clubs and freewheeling subculture might have belonged to another world. Pforzheim, home to thriving jewellery and watch-making industries, was staid and deeply provincial.

There was a Bismarckian solidity to the architecture of streets like Goethestrasse and Bleichstrasse that perfectly mirrored the oppressive spirit of the place. Ponderous buildings stood shoulder to shoulder like a row of well-heeled bürgermeisters. Built out of dark-russet sandstone and blackened by pollution, they were singularly lacking in frivolity.

In the late nineteenth century, the town's merchants had amassed sizeable fortunes from their jewellery businesses. With this money they built solid fin-de-siècle mansions on the leafy fringes of town, adorned with pinnacles, turrets and crenellated battlements in homage to Germany's Teutonic past. Yet there was nothing whimsical about the families that lived here, profoundly conservative and deeply conventional, in marked contrast to Wolfram's parents.

A number of the wealthiest local dynasties were Jewish. The Rothschilds and Guggenheims were among the more prominent, along with many of the town's leading doctors and lawyers.

Wolfram's father would soon socialise with many of these wealthy Jews. Like them, he was a freemason - a member of the prosperous Reuchlin lodge. Every week, he would put on his smartest suit and stroll down to the Villa Becker, the lodge's headquarters, for an evening of debate, classical music and intellectual discussion.

Wolfram's mother was always at her happiest on the evenings when he went to his Masonic meetings because beforehand he washed, shaved and put on a top hat, although she could never understand why he insisted on leaving his wet shaving bowl and razor on the piano. She would let out a weary sigh when - as always happened - she would find him asleep in the bath with the newspaper floating all around him. Having fished out the pages, she would hang them on the radiators to dry.

All would be forgiven when Erwin emerged clean-shaven and dressed in his smartest clothes, bringing back fond memories of Marie Charlotte's comfortable bourgeois childhood; her father, a general, was always impeccably turned out.

The town's Jewish bourgeois elite quickly warmed to Erwin's eccentricities and awkward mannerisms, excusing him because he was an artist. He, in turn, found them stimulating company.

The overt anti-Semitism that was so prevalent in other parts of Germany was less visible in Pforzheim. Although there were sometimes tensions between the two communities, Jews played an important role in local society and several leading members of the Chamber of Commerce were Jewish. The town's two principal department stores were also owned by Jews and when the community came to build a new synagogue in 1893, they were offered a site in the very heart of the town. Its architecture was conspicuously Western; with its stocky tower and gilded cupola, it could easily have been mistaken for a church.

There were the occasional unpleasant incidents. In 1922 a couple of the synagogue's windows were smashed, and in 1926 some tombs in the Jewish cemetery were daubed with paint. Yet these were isolated cases, swiftly dealt with by the authorities. In Pforzheim, the Jews had nothing to fear.

Wolfram was not yet born when the German economy suffered its first spectacular crash. In April 1923, exactly twelve months before his birth, it cost 24,000 Deutschmarks to buy one American dollar. By Christmas, that same dollar cost a staggering 4,200 trillion Deutschmarks. Reparation payments together with the loss of both the industrialised Lorraine and Silesia, had created an underlying instability. Inflation, soon to become hyperinflation, started to spiral out of control.

As instability led to catastrophe, the German mark was rendered worthless. Prices rose so rapidly that, when Marie Charlotte took her mother to Café Brenner in the centre of Pforzheim, she joked that she should pay for the drinks immediately lest she could not afford them by the time they had finished.

When the German economy crashed for the second time, in 1930, Wolfram was six years old and had just started his education in a state school that catered for the children of both rich and poor. While the wealthy still managed to make ends meet, the impoverished underclass suddenly found themselves reliant on canteens run by Quaker charities from America.

Life for the downtrodden became a succession of miseries. Wolfram paid an occasional visit to a neighbouring family where everyone was out of work and had to sit in pitch darkness every evening because they could no longer afford electricity.

In the face of adversity, some people became inventive in their quest to earn money. A long rap at the Aïchele front door signalled the arrival of the woman who called every few days with baskets of kindling wood for sale. She used to ask the forest lumberjacks for thin slices from the stumps of trees that had been felled, then split these into tiny pieces and go from house to house, trying to earn a little cash.

By the winter of that year, thousands of the town's workers were without a job. Every morning, long before it was light, bands of ragged and hungry individuals would head for the Work Bureau in the hope of getting temporary employment. They would stand close together in an orderly queue, waiting for it to open and taking extreme care not to lose their place lest someone else be given the work they desperately needed.

In apartment blocks in and around Pforzheim, men would gather in the stairwell each evening for heated discussions about which political party was best equipped to save the German economy. Some were Communists. Others threw their support behind those at the other end of the political spectrum, Adolf Hitler's National Socialist Party.

Such discussions frequently took place in the Pforzheim block where the young Wolfram was living at the time. The building was owned by a committed Socialist whose tenants included a Nationalist, a Jew and a Nazi, making it a microcosm of the new Germany. The Nazi occupant, Herr Kraft, used to wag his finger at Wolfram's father and tell him that Hitler was the only leader strong enough to impose his ideas on the country. Erwin, however, vehemently disagreed; he had no time for the jumped-up Austrian corporal, and remained a German Nationalist who believed that President Hindenberg alone could lead the country out of these difficult times.

Herr Kraft, an early enthusiast for Nazism, was particularly proud of his role in establishing the Pforzheim branch of the party in the autumn of 1920, one of the first local offices in Germany. He also knew Wolfram's father well enough to realise that he would never support the Nazis and even cautioned him against signing up for membership. 'You mustn't join,' he used to say. 'They've got nothing to offer you. And they're too rough.' Having said that, he secretly confessed that he had joined because he relished the pub brawls in which Nazi thugs played a prominent role.

Herbert Kraft's enthusiasm for Hitler was not shared by many in Pforzheim. The notion of the Nazi Party coming to power seemed fanciful, for it was still very much on the margins of political life. Hitler had briefly shot to prominence in the wake of his abortive coup in 1923 when he had held hostage the ruling triumvirate of Bavaria in a Munich beer hall. This incident, later to be celebrated in Germany as the Beer Hall Putsch, was a failure. The army moved in to crush Hitler's 600 storm-troopers, killing sixteen of them in the process. Hitler himself was arrested three days later. Although he won many plaudits at his showcase trial and managed to escape the gallows, he realised that attempting to seize power by force was doomed to failure. Henceforth, he would attempt to win through the ballot box.

Yet even this strategy seemed unlikely to succeed. In the elections of May 1928, the Nazi Party had won a derisory 2.6 per cent of the vote. Although they managed to get twelve deputies into the Reichstag - among them Joseph Goebbels and Hermann Goering - it was cold comfort to the party leadership. The stark truth was that fewer than three out of every hundred Germans agreed with Hitler's conviction that he was the saviour of their nation.

To maximise their chances of success the Nazi political programme of 1930 had been carefully worded to tap into all the grievances of the day. Nationalistic, anti-Semitic and written in unadorned language, it was designed to appeal not just to men like Herbert Kraft, but right across the social spectrum. Point one, 'We demand the union of all Germans in a Great Germany,' was a view held by the great majority of the electorate. Point two, 'We demand...revocation of the peace treaties of Versailles,' was also a vote winner. Other points addressed immigration, corruption and land reform, issues that struck a chord with the overwhelming majority of the population.

The fifth point of the programme was more contentious. 'Only those of German blood...may be members of the nation. Accordingly, no Jew may be a member of the nation.' In a town where the Jewish population was well integrated into society, this seemed neither feasible nor fair.

Although Wolfram's father had no truck with such dogma, he, like so many of his contemporaries, had learned to despise the fledgling democracy of the Weimar Republic. Indeed, he increasingly blamed democracy for the chaotic state of affairs in Germany.

Hitler used every possible occasion to stress his intention of coming to power through the ballot box. In March 1930, he finally got his chance. The right-wing German chancellor, Heinrich Brüning, dissolved the Reichstag and called national elections, confident that the electorate would blame the centre parties for the economic crisis and vote, in their millions, for the German Nationalist Party.

It was a catastrophic error of judgment and one that was fully exploited by Hitler. The Nazis threw everything into the campaign, aware that if they could not succeed in a time of economic crisis, they would never manage to win an election.

In Pforzheim there was a feeling that change was on its way. In Wolfram's tenement, Herbert Kraft felt certain that the Nazis would at long last achieve a breakthrough. Even those tenants who did not support Hitler agreed that a radical solution was necessary. People were saying that things could not carry on as they were and that life could not get any worse, even under Hitler or the Communists. What everyone agreed upon was that Germany needed a strong leader.

The prospect of Communist rule terrified Pforzheim's middle classes. Whilst also unhappy about the anti-Semitism of the Nazis, most of them thought that this did not have to be taken too seriously. Being prepared to try anything, they felt that Hitler should at least be given the opportunity to show what he could do.

It was an opinion shared by 6.4 million Germans. When the election results were announced, the Nazi Party was revealed to have achieved a stunning success. With 18.3 per cent of the electorate and 107 seats in the Reichstag, it had become the second-largest party.

Wolfram, who was far too young to care about such matters, spent his spare time seated at the family table, producing intricate drawings of medieval village life. Every now and then, his mother would glance into the dining room and smile as she watched her young son hunched over a sheet of paper, lost in his own miniature world.

The farmsteads and churches in his drawings were inspired by trips to his relatives in the countryside around Freiburg, but the crowds of villagers who inhabited the pictures were conjured to life in young Wolfram's imagination - rough farmhands, hawkers and pedlars, burghers and merchants in floppy galliskins.

The quality of the draughtmanship astonished his parents' friends; indeed, they did not quite believe that Wolfram could have produced them without help. One of these visitors, Herr Tiehl, visited the family villa regularly to select one of Erwin's paintings to print in the magazine he owned. When he paused one day to look at what the young Wolfram was drawing, he was taken aback by his confident technique. The illustration in question depicted a Christmas market with festive stalls and decorations, and cauldrons of steaming food. In the background were half-timbered mansions blanketed with snow.

Herr Tiehl immediately asked whether he could print it in the Christmas issue of the magazine, paying Wolfram the princely sum of 25 Deutchsmarks.

These childhood pictures also provide a glimpse of the village of Eutingen as it appeared to a young boy. The surrounding hillsides were covered in orchards and tidy vineyards that stretched up the slopes in orderly parallel lines.

The centre of the village, a sleepy single street called Hauptstrasse, lay at the bottom of the hill, with a parish church and a handful of stores selling household goods, haberdashery and sweets. Here, too, was the local primary school attended by Wolfram, his brother and sister. There was also a rathaus or town hall - a grandiose description for the village offices.

From the centre of the village, a steep path called the Hohe Steig or High Path led up to the künstler colonie or artists' colony at the top of the hill. There were only six houses here, each encircled by large gardens. They were so off the beaten track that no one went there unless they were invited, which meant that the Eutingen hilltop could become the Aïcheles' private domain - isolated in its own bubble from the rest of Germany.

Over the years to come, a stream of eclectic friends, acquaintances and clients of Erwin would visit, safe in the knowledge that, once they were inside this magnificent home, conversation was free and open. Among them was Dr Schnurmann, a Jewish physician whose penchant for Hitler jokes would soon land him in hot water, and August Zorn, whose headstrong daughter would get into serious trouble after falling in love with an enforced Polish labourer. Yet another was Karl Weber, a senior public attorney, who would soon join the Nazi Party only to find himself prosecuting individuals who were good friends of the Aïcheles.

On their visits, Dr Schaaff and his Japanese wife captivated the children with tales of miniature artwork from from Schaaff's native land. Another visitor was a great-aunt with a huge collection of African spears and lances. Another was Dr Hillenbrandt, who had hacked through the jungles of equatorial Africa like some latter-day Livingstone.

Wolfram loved to chat with the adults and listen to their tales, and they, bemused to find a young lad so interested in their stories, would talk to him as if he were already a grown-up. Wolfram's parents were pleased to see their children conversing with these adult visitors. They wanted them to form their own opinions about the world.

Among the occasional guests at the Eutingen villa was an attractive young mother and her four young children. Martha Luise Rodi was very different to most guests of the Aïcheles. The daughter of one of the influential jewellery dynasties of Pforzheim, she had been brought up in bourgeois comfort in the centre of Pforzheim.

She might never have met Wolfram's parents had it not been for the fact that she and her husband, Max, attended the same parish church. The Christengemeinschaft, or Christian Community of Pforzheim, was centred on the teachings of the esoteric Austrian philosopher Rudolf Steiner, who held that the spirit in human beings could be guided towards the spirit in the universe.

The Pforzheim community was a tiny one, rarely more than thirty souls, and people knew one another well. Although Wolfram's father refused to attend, all the other members of the two families would go to the services most Sundays. On occasions, Frau Aïchele would invite Frau Rodi and her children back to her house for coffee and cake.

Those children were entranced by their visits to Eutingen - a little island that seemed to be adrift from the rest of the globe. Visual harmony meant everything to Wolfram's mother; even the children's toys were objects of beauty. And the family lit their house with candles, which in those days was deemed to be highly eccentric. Visitors were left with the impression that they were entering a very cultured atmosphere.

The Rodi boys, Frithjof and Peter, found it difficult to get to know Wolfram, with his funny interests and strange stockings. He seemed like a child who had dropped from another planet. The two brothers wanted to play hide-and-seek and other boyish games, but the young Wolfram was keener to tell them about the gothic altarpieces he had seen while out on his bike rides.

In the twilight years of the Weimar Republic, a shared outlook on life had already brought the Aïcheles and the Rodis into each other's orbit. Each night, the Rodi children would drift off to sleep as their father played his beloved Schumann on the piano, while in a little village on the other side of Pforzheim, Wolfram and his siblings would listen to Bach arias on their father's wind-up gramophone.

As darkness closed in, both families shared the feeling that difficult times lay just around the corner. Yet no one foresaw the fact that their idyllic world, so carefree and tolerant, was about to be thrust into a brutal and terrible future.

Meet the Author
GILES MILTON is a writer and journalist.  He has contributed articles to most of the British national newspapers as well as many foreign publications.  He is the author of five previous works of non-fiction and one novel.  His books have been translated into sixteen languages worldwide.