Ermes Effron Borgnino, dit Ernest Borgnine, né le 24 janvier 1917 à Hamden (Connecticut) et mort le 8 juillet 2012 à Los Angeles, est un acteur américain.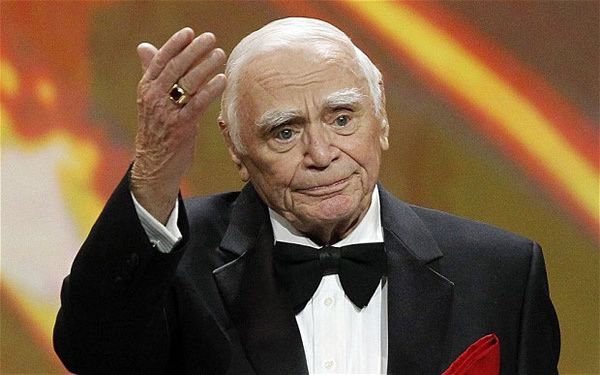 Né dans une famille d'origine italienne, Ernest Borgnine ne se destine pas particulièrement à la comédie dans sa jeunesse. À 18 ans, il s'engage dans la Navy, jusqu'en 1945. Ce n'est qu'à la fin de la guerre qu'il s'inscrit à la Randall School of Drama, à Hartford, Connecticut. Il fait ses débuts sur scène à Broadway, quatre ans plus tard, dans la pièce Harvey. En 1951, Borgnine vit à Los Angeles : il décroche un petit rôle dans le film The Whistle at Easton Falls, de Robert Siodmak. C'est en 1953 qu'il obtient son premier grand rôle, dans le film maintes fois oscarisé Tant qu'il y aura des hommes. Il y incarne le sergent Fatso Judson, violent et cruel. Il donne ensuite sa pleine mesure dans Un homme est passé (1954), Vera Cruz (1954) ou Johnny Guitare (1954), trois films qui l'imposent comme l'un des « méchants » d'Hollywood.
Ernest Borgnine obtient l'Oscar du meilleur acteur en 1955 pour le rôle de Marty Pilletti dans Marty de Delbert Mann. Ce rôle lui permet d'aborder une nouvelle facette de son travail d'acteur : il y joue un boucher timide et tendre. Par la suite, il retrouve son emploi-type de « dur », notamment dans Les Vikings (1958). Il participe à quelques longs métrages devenus « classiques », tels Les Douze Salopards (1967) — où il campe un savoureux général — et La Horde sauvage (1969). Depuis, il ne cesse de tourner : sa filmographie ne compte pas moins de 140 films. Dans les années 1980 et 1990, il apparaît dans quelques fictions d'anticipation qui ont marqué le public : New York 1997 (1981), de John Carpenter ou encore Bienvenue à Gattaca (1997). De 1984 à 1986, il joue dans les trois premières saisons de la série télévisée culte Supercopter (Airwolf). En 2004, il interprète Rolling star, dans le film inspiré de la bande dessinée, Blueberry. Loin des personnages sanguinaires qui l'ont rendu célèbre, il incarne un vieil homme doux et rêveur.
Ernest Borgnine prête aussi sa voix au super-héros vieillissant « l'homme-sirène » dans le dessin-animé Bob l'éponge. Après sa mort, ils lui rendront d'ailleurs hommage en faisant mourir son personnage mais en marquant le nom d'Ernest Borgnine sur la pierre tombale. Alors qu'il a joué très souvent des rôles de sadique et de violent, il est reconnu dans toute la profession pour sa gentillesse, son grand humour, sa jovialité et sa très grande humilité malgré une carrière exceptionnelle. Ernest Borgnine est décédé au centre médical Cedars-Sinai à Los Angeles, entouré de sa famille. Dans la revue Positif, Christian Viviani rendra hommage à l'artiste : "Méchant ou gentil, il laisse le souvenir d'un visage familier, lié à toute une conception du cinéma et de la cinéphilie, mais aussi celle d'un acteur à la présence impressionnante et dont la filmographie se lit comme une vaste page de l'histoire du cinéma américain."

Filmographie
1951 : Corsaire de Chine (en) (China Corsair) de Ray Nazarro

1951 : Quand la foule gronde (The Whistle at Eaton Falls) de Robert Siodmak

1951 : Dans la gueule du loup (The Mob) de Robert Parrish

1953 : Tant qu'il y aura des hommes (From Here to Eternity) de Fred Zinnemann : Sergent James « Fatso » Judson

1953 : Les Massacreurs du Kansas (The Stranger Wore a Gun) d'André De Toth

1954 : Johnny Guitare (Johnny Guitar) de Nicholas Ray : Bart Lonergan

1954 : Les Gladiateurs (Demetrius and the gladiators) de Delmer Daves

1954 : Terreur à l'Ouest (en) (The Bounty Hunter) d'André De Toth

1955 : Vera Cruz de Robert Aldrich : Donnegan

1955 : Un homme est passé (Bad Day at Black Rock) de John Sturges : Coley Trimble

1955 : Marty de Delbert Mann : Marty Piletti

1955 : À l'ombre des potences (Run for Cover) de Nicholas Ray

1955 : Les Inconnus dans la ville (Violent Saturday) de Richard Fleischer : Stadt

1955 : Quand le clairon sonnera (The Last Command) de Frank Lloyd

1955 : La Jungle des hommes (The Square Jungle) de Jerry Hopper

1956 : L'Homme de nulle part (Jubal) de Delmer Daves

1956 : Le Repas de noces (The Catered affair) de Richard Brooks : Tom Hurley

1956 : Les Rois du jazz (The Best Things in Life Are Free) de Michael Curtiz

1956 : Je ne suis pas un espion (These Brave Men) de Philip Dunne

1957 : Hollywood glamour on ice - Screen snapshots 2851: Hollywood glamour on ice de Ralph Staub (court-métrage)

1958 : Les Vikings (The Vikings) de Richard Fleischer : Ragnar

1958 : L'Or du Hollandais (The Badlanders) de Delmer Daves

1958 : La Dernière Torpille (Torpedo run) de Joseph Pevney

1959 : Chaque été l'amour renaît (Summer of the Seventeenth Doll) de Leslie Norman : Roo

1959 : La Clé des champs (The Rabbit Trap) de Philip Leacock : Eddie Colt

1960 : Contre-espionnage (Man on a String) d'André De Toth

1960 : La Maffia (en) (Pay or Die) de Richard Wilson

1961 : Le Roi des truands (Black City / Il re di poggioreale) de Duilio Coletti

1961 : Les Guérilleros (The Italian Brigands / I briganti italiani) de Mario Camerini

1961 : Volupté (Go Naked in the World) de de Ranald MacDougall

1961 : Le Jugement dernier (The Last Judgement / Il Giudizio universale) de Vittorio De Sica

1961 : Barabbas (Barabba) de Richard Fleischer : Lucius

1964 : La Flotte se mouille (McHale's Navy) d'Edward Montagne

1965 : Le Vol du Phœnix (The Flight of the Phoenix) de Robert Aldrich : Trucker Cobb

1966 : La Statue en or massif (The Oscar) de Russell Rouse : Barney Yale

1967 : Les Douze Salopards (The Dirty Dozen) de Robert Aldrich : général Worden

1967 : Chuka le redoutable (Chuka) de Gordon Douglas

1968 : Il était une fois dans l'Ouest (Once Upon a Time in the West) de Sergio Leone : L'aubergiste (non-crédité)

1968 : The Man Who Makes the Difference (court-métrage)

1968 : Le démon des femmes (The Legend of Lylah Clare) de Robert Aldrich

1968 : Destination Zebra, station polaire (Ice station Zebra) de John Sturges

1968 : Le Crime c'est notre business (The Split) de Gordon Flemyng

1969 : La Horde sauvage (The Wild Bunch) de Sam Peckinpah : Dutch Engstrom

1969 : Les Quatre desperados (en) (A Bullet for Sandoval / Los desperados / Quei disperati che puzzano di sudore e di morte) de Julio Buchs

1970 : Les Derniers Aventuriers (The adventurers) de Lewis Gilbert : Fat Cat

1970 : Un sacré baroud (en) (Suppose They Gave a War and Nobody Came?) de Hy Averback

1971 : Le Coriace (L'uomo dalla pelle dura / Murder in the Ring) de de Franco Prosperi

1971 : Rain for a Dusty Summer d'Arthur Lubin

1971 : Willard de Daniel Mann : Al Martin

1971 : Bunny O'Hare de Gerd Oswald

1971 : Un colt pour trois salopards (Hannie Caulder) de Burt Kennedy

1972 : The World of Sport Fishing de Bud Morgan (documentaire)

1972 : Film Portrait de Jerome Hill (documentaire)

1972 : La Poursuite sauvage (The Revengers) de Daniel Mann

1972 : L'Aventure du Poséidon (The Poseidon adventure) de Ronald Neame

1973 : Odyssée sous la mer (The Neptune Factor) de Donald Petrie

1973 : L'Empereur du Nord (Emperor of the North Pole) de Robert Aldrich : Shack

1974 : La Petite Maison dans la prairie saison 1, épisode 14 (Le fils (The Lord is my shepherd), partie 2) : Jonathan

1974 : La Loi et la pagaille (en) (Law and Disorder) d'Ivan Passer

1974 : Vegeance Is Mine de John Trent

1975 : La Cité des dangers (Hustle) de Robert Aldrich : Santuro

1975 : La Pluie du diable (The Devil's Rain) de Robert Fuest

1976 : Shoot de Harvey Hart

1976 : Won Ton Ton, le chien qui sauva Hollywood (Won Ton Ton the dog who saved Hollywood) de Michael Winner

1976 : Allô... Madame (Natale in casa d'appuntamento) de Armando Nannuzzi

1977 : Jésus de Nazareth (Jesus of Nazareth / Gesù di Nazareth) de Franco Zeffirelli (Télésuite) : un centurion

1977 : The Greatest de Tom Gries

1977 : Horizons en flammes (Fire !) de Earl Bellamy

1978 : Le Prince et le Pauvre (Crossed Swords) de Richard Fleischer

1978 : Le Fantôme du vol 401

1978 : Le Convoi (Convoy) de Sam Peckinpah : shérif Lyle Wallace

1979 : Ravagers de Richard Compton

1979 : A l'Ouest, rien de nouveau (All Quiet on the Western Front ) (téléfilm)

1979 : The Double McGuffin de Joe Camp

1979 : Le Trou noir (The Black Hole) de Gary Nelson : Harry Booth

1980 : Un drôle de flic (Poliziotto siperpiù / Super Fuzz) de Sergio Corbucci

1980 : Le Jour de la fin du monde (When time ran out) de James Goldstone : Tom Conti

1981 : Les Risques de l'aventure (en) (High Risk) de Stewart Raffill

1981 : New York 1997 (Escape from New York) de John Carpenter : Cabbie, le chauffeur de taxi

1981 : La Ferme de la terreur (Deadly Blessing) de Wes Craven

1982 : Le match (Mr White Death) dans la série Magnum (saison 3 - épisode 9)

1982 : Arrivedeci dans la série La croisière s'amuse (saison 6 - épisodes 1 et 2) : Dominic Rosselli

1983 : Jeune et hors-la-loi (Young Warriors) de Lawrence D. Foldes

1984 : Nom de code : Oies sauvages (en) (Code Name: Wild Geese / Geheimcode : wildgänse) d'Antonio Margheriti

1984 : Les Derniers Jours de Pompéi (série télévisée)

1985 : Les Douze Salopards 2 (The Dirty Dozen: Next Mission) d'Andrew V. McLaglen (Téléfilm) : Général Worden

1984-1986 : Supercopter (Série télévisée) : Dominic Santini (saisons 1 à 3)

1985 : The Manhunt (en) (Cane arrabbiato) de Fabrizio De Angelis

1987 : Skeleton Coast de John Bud Cardos

1987 : The Opponent (Qualcuno paghera ?) de Sergio Martino et Donald Petrie

1987 : Les Douze Salopards - Mission Suicide (The Dirty Dozen: The Deadly Mission) de Lee H. Katzin (Téléfilm) : Général Worden

1987 : Les Douze Salopards - Mission Fatale (The Dirty Dozen: The Fatal Mission) de Lee H. Katzin (Téléfilm) : Général Worden

1987 : Arabesque (Série télévisée) Troisième saison (1986-1987), épisode 16

1988 : The Dirty Dozen: The Fatal Mission (en) (Téléfilm)

1988 : The Big Turnaround (it) de Joe Cranston

1988 : Moving Target (en) (Bersaglio sull'autostrada) de Marius Mattei

1988 : La Mort d'un homme (Any Man's Death) de Tom Clegg

1988 : Spike of Bensonhurst (en) (Throw back !) de Paul Morrissey

1989 : Real Men Don't Eat Gummi Bears (Gummibärchen küßt man nicht) de Walter Bannert

1989 : Oceano de Ruggero Deodato (série TV)

1990 : The Last Match (L'ultima partita) de Fabrizio De Angelis

1990 : Missile (Tides of War) de Nello Rossati

1990 : Laser Mission (en) de Bud Davis

1992 : Hollywood Mistress (Mistress) de Barry Primus (Cameo)

1994 : The Outlaws: Legend of O.B. Taggart sz Rupert Hitzig

1995 : Captiva Island de John Biffar

1996 : The Wild Bunch: An Album in Montage de Paul Seydor (documentaire)

1996 : Merlin's Shop of Mystical Wonders de Kenneth J. Berton

1996 : All Dogs Go to Heaven 2 de Paul Sabella et Larry Leker (voix)

1997 : Ernest Borgnine On the Bus

1997 : McHale's Navy: y a-t-il un commandant à bord ? (McHale's Navy) de Bryan Spicer

1997 : Bienvenue à Gattaca (Gattaca) d'Andrew Niccol : Caesar, le vieil homme de ménage

1998 : 12 Bucks de Wayne Isham

1998 : Small Soldiers de Joe Dante : voix de Kip Killigan

1998 : BASEketball de David Zucker : Ted Denslow

1998 : Mel de Joey Travolta (TV) : Grandpa

1999 : The Last Great Ride de Rafe M. Portilo

1999 : Abilene de Joe Camp III

1999 : The Lost Treasure of Sawtooth Island de Richard Brauer

1999- 2010 : Bob l'éponge : l'homme sirène (voix) - 11 épisodes

2000 : The Kiss of Debt de Derek Diorio

2000 : Castlerock de Craig Clyde

2000 : Hoover de Rick Pamplin (+ Producteur délégué)

2000 : Walker, Texas Ranger (Série TV, Saison 9, épisode 4, Eddie Ryan)

2002 : 11'09"01 - September 11, épisode "USA" de Sean Penn

2002 : Whiplash de Douglas S. Younglove

2003 : Barn Red de Richard Brauer

2003 : The Long Ride Home de de Robert Marcarelli

2004 : Blueberry, l'expérience secrète de Jan Kounen

2005 : 3 Below de Bobb Hopkins

2005 : Rail Kings de Bobb Hopkins

2006 : La Cura del gorilla de Carlo Sigon

2006 : Mr. Warmth: The Don Rickles project de John Landis (documentaire)

2007 : Oliviero rising de Riki Roseo

2007 : Un grand-père pour Noël (A grandpa for Christmas) de Harvey Frost (TV)

2008 : Frozen Stupid de Richard Brauer de Fred Wolf

2008 : Strange Wilderness de Fred Wolf

2008 : Ace n'eights

2008 : Chinaman's Chance d'Aki Aleong

2009 : The lion of Judah de Deryck Broom et Roger Hawkins

2009 : Another Harvest Moon de Greg Swartz

2009 : Un vœu pour Noël (The Wishing Well) de David Jackson (TV)

2009 : The genesis code

2009 : Urgences (Série TV, 2 épisodes)

2010 : Enemy mind de Brennan Reed

2010 : Night club de Sam Borowski

2010 : Snatched de Joe Cacaci

2010 : Red de Robert Schwentke

2011 : Noël au Far West (Love's Christmas Journey) (TV)

2012 : The Man Who Shook the Hand of Vicente Fernandez d'Elia Petridis