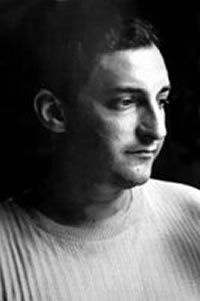 Herbert C. Abramson (November 16, 1916 – November 9, 1999) was an American record company executive and producer. He was born in 1916 in Brooklyn, New York City and initially studied to be a dentist but he landed a job with National Records producing such performers as The Ravens, Billy Eckstine and Joe Turner. Abramson founded his first record company, Jubilee Records, in 1946 with Jerry Blaine. Abramson aspired to record jazz, R&B and Gospel recordings.

Though Blaine was having some success recording Jewish novelty records, this genre did not interest Abramson, so he sold his interest in Jubilee to Blaine. Abramson and his wife Miriam were close friends with fellow jazz buff Ahmet Ertegün and together they founded Atlantic Records in 1947. Abramson was president of Atlantic and Ahmet was vice-president. Both Abramson and Ahmet handled the creative end of the business and Miriam handled the business end.

In 1953, he was drafted into the Army which put him out of touch with the company which nevertheless enjoyed great success while he was away. Jerry Wexler joined Atlantic as a partner in his absence while Abramson retained the title of president of the company. When Abramson returned from the Army in 1955, he found Atlantic a changed company. Ahmet's brother Nesuhi had joined Atlantic in 1955 as a partner and was enjoying great success in jazz LPs. Ahmet and Jerry were recording R&B hits which crossed over into pop. Complicating things was his faltering marriage to Miriam which would end in divorce. To give Abramson something to do, Atco Records was formed in 1955 as a division of Atlantic which he would run on his own.

This did not solve his problems completely, despite's Atco's success with such artists as The Coasters. One of his artists, Bobby Darin, was going hitless but Darin endeared himself to Ahmet and Jerry through his musical talent. When Abramson announced that he was dropping Darin, Ahmet objected and decided to record three tracks with Darin. Two of them, Splish Splash and Queen Of The Hop became breakthrough hits for Darin.

Ahmet's success with Bobby Darin after Abramson's repeated failures was the last straw. He left Atlantic Records in December 1958, selling his stake in the company to now ex-wife Miriam Bienstock (who married music publisher Freddy Bienstock) and Nesuhi Ertegün. Ahmet Ertegün became president of the company. Abramson would start new record labels including Triumph, Blaze and Festival. His most successful post-Atlantic recording was producing Hi-Heel Sneakers by Tommy Tucker (released on Checker Records) but he did not enjoy anywhere near the success that he had with Atlantic Records.

Abramson set up his own recording studio in the mid 1960s - A-1 Sound Studios first at 234 West 56th Street and then on the ground floor of a hotel off Broadway and 76th Street. Johnny Nash and Lloyd Price were among the artists who recorded there. Hank Crawford, James Moody & Richie Cordell were among A-1's clients. Bette Midler, Barry Manilow & Patti Smith all cut demos there. Jonathan Thayer, later of Vanguard Recording Studios, engineered for Herb. Other engineers included Rob Fraboni (the Band, Bob Dylan) and Mike Edl (WBAI-FM). In 1998, he received the Pioneer Award from the Rhythm & Blues Foundation. He died in Henderson, Nevada, USA in 1999, 7 days shy of his 83rd birthday.