Going home to glory - A Memoir of Life with Dwight D. Eisenhower, 1961-1969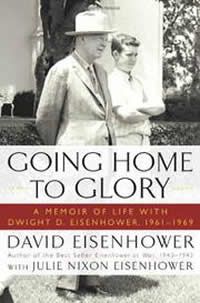 Dwight Eisenhower's grandson, David (Communications/Univ. of Pennsylvania; Eisenhower at War, 1943-1945, 1991), and Richard Nixon's daughter, Julie (Pat Nixon: The Untold Story, 1986, etc.), present an amiable and insightful memoir of the ex-president's retirement years. On leaving office, the former president and his wife moved to his Gettysburg, Pa., farm to live near his son and grandchildren, including the then 12 year-old author, David. The bruising 1960 presidential campaign left him bitterly resentful of President Kennedy and no fan of the press, especially when polls gave his presidency low marks (his rank has risen steadily since).
The author adds that Eisenhower remained a national hero and the most influential Republican. Former Vice President Nixon was in temporary eclipse, having lost the presidency in 1960 and lost again in California's 1962 governor's race. Despite his influence and for reasons the author never makes clear, Eisenhower hung back from exerting it even in matters dear to his heart. Although he opposed conservative Barry Goldwater as Republican nominee in 1964, his refusal to endorse the candidates he preferred, Nelson Rockefeller and William Scranton, may have tipped the balance against them.
The author intermixes politics with an affectionate account of Eisenhower's domestic routine, which included a great deal of TV watching, golf, bridge, painting and socializing with wealthy friends, but also writing, intense devotion to running a working farm and delivering sage advice to young people, including the adolescent author. Few readers will be surprised at the former president's lack of sympathy with '60s morals, music and civil disorder, but the author stresses that he disliked discrimination against blacks and supported Kennedy's and Johnson's civil-rights legislation. The author's mixture of personal memories and research produces a fine addition to the history of both Eisenhower and the '60s.

Fiche Technique
Pub Date : 26/10/2010

ISBN : 978-1-4391-9090-6

Publisher : Simon & Schuster

Review Posted Online : Aug. 18th, 2010

Kirkus Reviews Issue : Sept. 15th, 2010

Author : David Eisenhower, Julie Nixon Eisenhower