Thomas Tsunetomi Noguchi (born January 4, 1927) is a former Chief Medical Examiner-Coroner for the County of Los Angeles, who served in that position from 1967 to 1982. Known as the "coroner to the stars", he determined the cause of death in many high-profile cases. He is most famous for performing autopsies on Marilyn Monroe, Robert F. Kennedy, Sharon Tate, William Holden, Natalie Wood and John Belushi.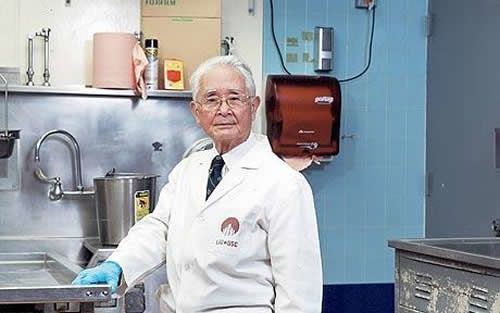 Noguchi was born in Japan and graduated from Tokyo's Nippon Medical School in 1951 before interning at The University of Tokyo School of Medicine Hospital. Shortly thereafter he immigrated to the United States. He then served a second internship at Orange County General Hospital and a series of residencies at Loma Linda University School of Medicine, and Barlow Sanatorium in Los Angeles. He was appointed a deputy coroner for Los Angeles County in 1961.
In 1967, he became Chief Medical Examiner (CME) for the county, replacing his mentor Theodore Curphey. It was in this role that Noguchi came to public attention for a series of autopsies he either performed or supervised on a range of celebrities and public figures that included Marilyn Monroe, Robert F. Kennedy, Janis Joplin, Albert Dekker, William Holden, John Belushi, Natalie Wood, Sharon Tate, and Gia Scala. His autopsy of Kennedy is significant for its conclusion that the fatal shot was fired into the back of Kennedy's head, behind the right ear, from an upward angle, and from a distance of no more than one-and-a-half to three inches away. This has given rise to conspiracy theories regarding the assassination, as no witnesses reported seeing the convicted assassin, Sirhan Sirhan, in a position to fire such a shot. Noguchi himself points out, in his memoir Coroner, that he has never officially ruled that Sirhan fired the fatal shot.
He developed a high profile as CME, and was often accused of speaking too freely to the media, particularly following the November 1981 deaths of both William Holden and Natalie Wood, which led to his ultimately being forced to step down from his position in 1982. He was later appointed Chief of Pathology at the University of Southern California and then as Administrative Pathologist for Anatomic Pathology services at the USC Medical Center.
Noguchi was appointed Professor by both the University of Southern California and UCLA. He is a past president of the American National Association of Medical Examiners. In 1999 he was honored by the Emperor of Japan who awarded him the Order of the Sacred Treasure for "outstanding contribution to Japan in the area of forensic science". He retired the same year. Noguchi is currently the President of World Association for Medical Law (WAML), which is a medical body founded in 1967 to encourage the study of health law, legal medicine, and bioethics. Reference website at http://wafml.memberlodge.org/.