George Rublee born Jul. 7, 1868 Madison Dane County Wisconsin, USA Death Apr. 26, 1957 New York, New York County. George Rublee, a Presidential advisor from the administration of Woodrow Wilson to that of Franklin D. Roosevelt, died yesterday afternoon in New York Hospital. His age was 88.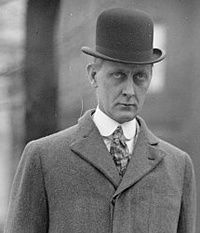 He had complained of feeling ill when he returned with his wife, Juliet, from a vacation in Mexico several weeks ago. He had been hospitalized for about two weeks. The Rublees resided at 1158 Fifth Avenue. Mr. Rublee held high Government posts under President Wilson. Under Presidents Calvin Coolidge and Herbert Hoover between 1928 and 1930 he helped to bring about better relations with Mexico.
In the Roosevelt Administration he directed the Intergovernmental Committee on Refugees, negotiating with Nazi Germany in 1938-39 for permission for German Jews to emigrate. He was born in Madison, Wis., on July 7, 1868, the son of Horace and Kate Hopkins Rublee. He attended Groton School, which had just been founded in 1884, and was the only member of its first graduating class, in 1886. Half a century later, when Mr. Rublee arrived for a reunion at the school, sitting beside Dr. Endicott Peabody, its founder, was a somewhat younger graduate, Franklin Delano Roosevelt. The President of the United States insisted on rising to yield the place of honor to the senior graduate. Mr. Rublee was graduated from Harvard College in 1890 and from its Law School in 1895, remaining there for a year to teach. After practicing law briefly in Chicago, he moved to New York in 1898 to practice.
He took part in politics in New Hampshire, where he had a residence in Cornish. In 1914, as a "Bull Moose" Republican, he had opposed the re-election of Jacob H. Gallinger, Republican leader of the United States Senate. Mr. Rublee was appointed to the Federal Trade Commission by President Wilson on March 5, 1915, but Senator Gallinger successfully fought confirmation on the ground that Mr. Rublee was "personally obnoxious." Mr. Rublee performed his duties as a commission member for eighteen months, though he was ineligible to receive any salary. President Wilson showed his continued esteem for Mr. Rublee by appointing him to the commission to report on the operation of the Adamson Eight-Hour Law. Shortly after the United States entered World War I in 1917, he was appointed to the Commercial Economy Board of the Advisory Council of National Defense.
Other wartime appointments were as special counsel to the Treasury Department and representative of the United States Shipping Board and Emergency Fleet Corporation on the priorities committee of the War Industries Board. In 1989-19 he was an American delegate to the Allied Maritime Transport Council in London. In 1921 Mr. Rublee joined the Washington law firm that became Covington, Burling, Rublee, Acheson & Shorb, now Covington & Burling. But he remained on call for Government service.
The late Dwight W. Morrow, who became Ambassador to Mexico in 1927, was seeking to resolve disputes over Mexican oil rights that clouded relations between the United States and Mexico. In 1928 Mr. Rublee became his legal advisor and worked closely in the negotiation of a settlement. In 1930, when Mr. Morrow was American delegate to the London Naval Conference, Mr. Rublee again accompanied him as legal advisor. Mr. Rublee's last major public service, begun in 1938, was as director of an intergovernmental committee to assist in the emigration and resettlement of German Jews. The outbreak of World War II prevented the fulfillment of any plan.