Arthur Christopher Orme Plummer dit Christopher Plummer, est un acteur canadien né le 13 décembre 1929 à Toronto, mais ayant grandi à Montréal et mort le 5 février 2021 dans sa résidence. Il est principalement connu du grand public pour le rôle du capitaine Georg von Trapp dans la comédie musicale La Mélodie du bonheur, réalisée par Robert Wise en 1965. Prêtant également sa voix à de nombreux personnages, il est notamment la voix d'Arngeir, membre des Grises-Barbes, dans le jeu The Elder Scrolls V: Skyrim (2011), de Charles Muntz dans le film d'animation Là-haut (2009) et de Numéro 1 dans le film d'animation Numéro 9 (2009). En 2012, il obtient l'Oscar du meilleur acteur dans un second rôle pour Beginners, devenant ainsi, à 82 ans, le comédien le plus âgé à recevoir un Oscar. Il est le père de l'actrice Amanda Plummer.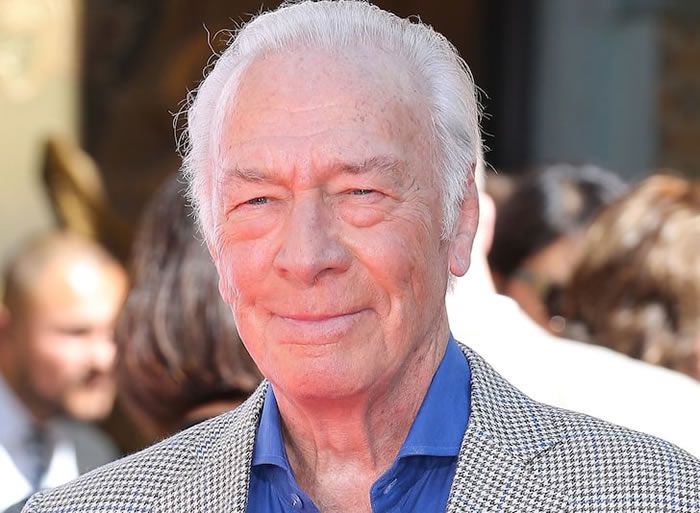 Carrière
Christopher Plummer est né le 13 décembre 1929 à Toronto, en Ontario. Il était le seul enfant de John Orme Plummer, qui a vendu des actions et des valeurs, et de son épouse Isabella Mary (née Abbott), qui a travaillé comme secrétaire du doyen des sciences à l'Université McGill et qui était la petite-fille du Premier Ministre canadien John Abbott. Du côté de son père, le grand-oncle de Plummer était l'avocat de brevet et l'agent FB Fetherstonhaugh. Plummer était également un cousin au deuxième degré de l'acteur britannique Nigel Bruce, connu pour dépeindre le docteur Watson à Basil Rathbone. Ses parents ont divorcé peu de temps après sa naissance et il a été élevé principalement par sa mère dans la maison de la famille Abbott à Senneville, au Québec, à l'extérieur de Montréal. Il parlait couramment l'anglais et le français.
C'est en suivant une formation pour devenir pianiste de concert qu'il découvre son amour pour le théâtre. Sa passion pour la comédie ne cesse de croître, jusqu'à le faire remarquer par Herbert Whittaker en 1946 qui lui confie le rôle d'Œdipe dans la pièce La Machine infernale de Jean Cocteau. Christopher Plummer a regretté toute sa vie de ne pas avoir fréquenté l'Université. Bien que sa mère et la famille de son père aient des liens avec l'Université McGill, il n'a jamais été un étudiant de McGill. Christopher Plummer débute à Broadway en 1953 où il se distingue dans plusieurs pièces à succès, dont The Starcross Story et Home is the Hero.
Ses talents d'acteur le font remarquer par le monde du cinéma, ce qui le conduit à jouer dans Les Feux du théâtre (1958) de Sidney Lumet. Cependant, il doit attendre La Mélodie du bonheur (1965) de Robert Wise pour interpréter son célèbre rôle du capitaine autrichien Georg Ritter von Trapp. Il obtient de multiples prix et distinctions tout au long de sa carrière. En 2012, il reçoit l'Oscar du meilleur second rôle pour son interprétation dans Beginners (2011) de Mike Mills. En 2018, il est nominé à l'Oscar du meilleur second rôle pour son personnage dans Tout l'argent du monde (2017) de Ridley Scott. Son épouse depuis 53 ans, Elaine Taylor, a déclaré que l'acteur est décédé le vendredi 5 février 2021 à son domicile du Connecticut, dans le nord-est des Etats-Unis.
Distinctions
Récompenses
1977 : Primetime Emmy Award du meilleur acteur dans une mini-série - Arthur Hailey's the Moneychangers
1994 : Primetime Emmy Award de la meilleure performance vocale - Madeline
1980 : Prix Génie du meilleur acteur - Meurtre par décret (Murder by Decree)
1999 : Boston Society of Film Critics Awards du meilleur acteur dans un second rôle - Révélations (The Insider)
1999 : Los Angeles Film Critics Association Award du meilleur acteur dans un second rôle - Révélations (The Insider)
2000 : National Society of Film Critics Award du meilleur acteur dans un second rôle - Révélations (The Insider)
2002 : National Board of Review Award de la meilleure distribution - Nicholas Nickleby
2007 : Meilleur acteur au Palm Beach International Film Festival - Man in the Chair (L'homme dans la chaise)
Pour le film Beginners :

2011 : Los Angeles Film Critics Association Award du meilleur acteur dans un second rôle
2011 : Dallas-Fort Worth Film Critics Association Award du meilleur acteur dans un second rôle
2011 : Gotham Independent Film Award de la meilleure distribution
2011 : Hollywood Film Award de l'acteur dans un second rôle de l'année
2011 : National Board of Review Award de la meilleure distribution
2011 : Southeastern Film Critics Association Award du meilleur acteur dans un second rôle
2012 : Oscar du meilleur acteur dans un second rôle (acteur le plus âgé à recevoir cette récompense)
2012 : British Academy Film Award du meilleur acteur dans un second rôle
2012 : Critics' Choice Movie Award du meilleur acteur dans un second rôle
2012 : Central Ohio Film Critics Association Award du meilleur acteur dans un second rôle
2012 : Chlotrudis Award du meilleur acteur dans un second rôle
2012 : Golden Globe du meilleur acteur dans un second rôle
2012 : Independent Spirit Award du meilleur acteur dans un second rôle
2012 : Kansas City Film Critics Circle Award du meilleur acteur dans un second rôle
2012 : Online Film Critics Society Award du meilleur acteur dans un second rôle
2012 : Modern Master Award au Festival international du film de Santa Barbara
2012 : Screen Actors Guild Award du meilleur acteur dans un second rôle
2012 : Toronto Film Critics Association Award du meilleur acteur dans un second rôle
2012 : Vancouver Film Critics Circle Award du meilleur acteur dans un second rôle
2012 : ACTRA Award du meilleur acteur - Barrymore
2013 : Prix Écrans canadiens du meilleur acteur dans un programme artistique ou une série - The Tempest
Nominations
33 nominations dont :
Télévision
Séries télévisées
1953 : General Motors Presents (1 épisode)
1953 : Studio One (1 épisode)
1953 : Suspense (1 épisode)
1953 : Broadway Television Theatre : Michael O'Leary (1 épisode)
1954 : The Web (1 épisode)
1954 - 1955 : Kraft Television Theatre (2 épisodes)
1955 : Producers' Showcase : Christian de Neuvillette (1 épisode)
1956 : General Electric Theater : Walter Shelley (1 épisode)
1956 : Appointment with Adventure (1 épisode)
1956 : The Alcoa Hour : Bruce Quealy (1 épisode)
1956 : Eye on New York : Lewis Rohnen (1 épisode)
1957 - 1958 : Omnibus : Oedipus / Thomas Mendip (2 épisodes)
1957 - 1961 : DuPont Show of the Month (2 épisodes)
1960 : Sunday Showcase (2 épisodes)
1961 : Time Remembered : Prince Albert
1961 - 1962 : Playdate : hôte de l'émission
1971 : Don Juan in Hell (BBC Play of the Month) : Don Juan
1974 : Witness to Yesterday : Arthur Wellesley, Duc de Wellington
1976 : Arthur Hailey's the Moneychangers, mini-série adaptée du roman Bank : Roscoe Heyward
1977 : Jésus de Nazareth (Jesus of Nazareth) (mini-série) : Hérode Antipas
1982 : Little Gloria... Happy at Last (mini-série) : Reggie Vanderbilt
1983 : Les oiseaux se cachent pour mourir (The Thorn Birds) (mini-série) : l'archevêque Vittorio Contini-Verchese
1986 : Crossings (mini-série) : Armand DeVilliers
1986 : Spearfield's Daughter (mini-série) : Lord Jack Cruze
1987 : Cosby Show : Jonathan Lawrence (1 épisode)
1991 : Intrigues impériales (Young Catherine) (mini-série) : Sir Charles Hanbury Williams
1991 : La Dame de Berlin (Berlin Lady) (mini-série) : Wilhem Speer
1990 - 1993 : Force de frappe (Counterstrike) : Alexander Addington
2003 : Odd Job Jack : Magnus the Maker (1 épisode)
2006 : American Experience : James Tyrone / narrateur (1 épisode)
2008 : The Summit : P.J. Aimes (2 épisodes)
Téléfilms
1958 : Little Moon of Alban : Kenneth Boyd
1958 : Johnny Belinda : Dr. Jack Pelletier
1959 : A Doll's House : Torvald Helmer
1959 : The Philadelphia Story : Mike Connor
1960 : Captain Brassbound's Conversion : Capitaine Brassbound
1962 : Cyrano de Bergerac, téléfilm adapté de la pièce éponyme : Cyrano de Bergerac
1964 : Hamlet at Elsinore, téléfilm adapté de la pièce Hamlet : Hamlet
1968 : The Secret of Michelangelo : le narrateur
1969 : Lock Up Your Daughters de Peter Coe : Lord Foppington
1974 : After the Fall : Quentin
1977 : Silver Blaze (ITV Sunday Night Drama), téléfilm adapté de la nouvelle Flamme d'Argent : Sherlock Holmes
1979 : Riel : Premier Ministre John A. Macdonald
1980 : The Shadow Box : Brian
1980 : Croisière en enfer (Desperate Voyage) : Burrifous
1981 : La vie est un cirque (When the Circus Came to Town) : Duke Royal
1981 : Dial M for Murder, remake de Le crime était presque parfait : Tony Wendice
1983 : La Pourpre et le Noir (The Scarlet and the Black) : Colonel Herbert Kappler
1983 : Parade of Stars : Cyrano de Bergerac
1983 : Prototype Humain (Prototype) : Dr. Carl Forrester
1987 : Les Hasards de l'amour (A Hazard of Hearts) de John Hough : Sir Giles Staverley
1989 : Nabokov on Kafka : Vladimir Nabokov
1990 : A Ghost in Monte Carlo : The Grand Duke Ivan
1991 : A Marriage: Georgia O'Keeffe and Alfred Stieglitz : Alfred Stieglitz
1991 : The First Circle : Viktor Abakoumov
1992 : Secrets : Mel Wexler
1993 : A Stranger in the Mirror : Clifton Lawrence
1995 : Harrison Bergeron : John Klaxon
1996 : We the Jury : Wilfred Fransiscus
1997 : The Arrow : George Hees
1997 : Saugatuck: La Cité du Crime (Skeletons) de David DeCoteau : Révérend Carlyle
1998 : Winchell : Franklin D. Roosevelt
2000 : Nuremberg : Sir David Maxwell Fyfe
2000 : The Dinosaur Hunter : Hump Hinton
2000 : Possessed : l'Archevêque Hume
2000 : American Tragedy : F. Lee Bailey
2001 : On Golden Pond : Norman Thayer
2002 : Night Flight : "Flash" Harry Peters
2002 : Agent of Influence : John Watkins
2005 : Ordre et Châtiment, le péché de nos pères (Our Fathers) : Cardinal Bernard Law
2005 : Four Minutes : Archie Mason
2013 : Muhammad Ali's Greatest Fight de Stephen Frears : John Marshall Harlan II